Basements can flood for many reasons, but one common culprit is a faulty water pump. This is a crisis no homeowner or business owner wants to face. But when disaster strikes, you need to know who to call to manage the water pump flood in your basement. Your trusted partner in this situation is Restoration Complete.
Why Choose Restoration Complete LLC for Basement Flooding
Located in the heart of Lawrenceville and Gainesville, GA, Restoration Complete is a top-tier emergency disaster services provider specializing in fire, water, and mold restoration. Serving both residential and commercial properties, no project is too large or small for our IICRC-certified team.
According to the Insurance Information Institute, about one in 50 insured homes has a property damage claim due to water damage or freezing each year. Restoration Complete understands this reality and accepts all insurance, working directly with your insurance company to ease your stress in these challenging situations.
How Restoration Complete LLC Handles Basement Flooding
When a water pump failure causes a flood in your basement, Restoration Complete will spring into action. Our team follows a comprehensive plan to ensure your property is restored to its original condition.
First Step: Initial Call and Assessment
When you dial our hotline at 833-831-2181, we immediately prioritize your call. We understand that water damage becomes progressively worse over time, and it's crucial to respond quickly to prevent further damage.
Next: Inspection and Water Damage Assessment
Upon arrival, our team inspects your property to determine the extent of the water damage and develop a suitable action plan.
Then: Water Extraction and Drying
Next, we begin the process of water removal, employing powerful pumps and vacuum units to quickly remove hundreds or thousands of gallons from your property. This immediate response helps to reduce drying time and prevent mold and secondary water damage.
Last: Restoration and Repair
Restoration, the final step, involves restoring your home or business to its pre-water damage condition. It may include minor repairs, such as replacing drywall and installing new carpet, or may entail major repairs, such as the reconstruction of various areas or rooms in a home or business.
Special Services: Pack Out and Mold Remediation
Restoration Complete also offers additional services to address all your post-flood needs. If your belongings need to be relocated during the restoration process, our pack out services ensure your items are safely packed and stored in a climate-controlled facility.
Moreover, being mold remediation and removal certified, we guarantee that any potential mold threats resulting from water damage are properly dealt with. The Environmental Protection Agency (EPA) reports that mold can begin growing within 48 hours of water damage, hence, why our mold remediation services are crucial following a water pump basement flood.
Restoration Complete: Your Trusted Partner in Water Pump Flooding Emergencies
In the greater Atlanta, GA area, Restoration Complete is the trusted partner for handling water pump flooding emergencies. With our experienced and certified team, we ensure your home or business is swiftly restored to its former glory following any flooding disaster.
Remember, when a water pump floods your basement, don't panic. Reach out to Restoration Complete and let our professionals handle it. With our services, you can rest assured that your property is in the best possible hands.
Why the Atlanta, GA Area Relies on Restoration Complete
For many years, the residents of Atlanta, GA and its surrounding cities within a 30-mile radius have put their trust in Restoration Complete for all their disaster restoration needs. Our commitment to quick response times, high-quality service, and a thorough restoration process has made us the top choice for disaster response, particularly for basement flooding caused by water pump failure.
Furthermore, as a local company, we understand the specific needs and challenges of properties in the Atlanta, GA area. We're familiar with local weather patterns, housing materials, and regulations, making us uniquely qualified to address water damage situations in the region.
Importance of Immediate Response
The significance of quick response in the face of a basement flood cannot be overstated. As The Federal Emergency Management Agency (FEMA) asserts, a delay in response and cleanup can increase the severity of the damage, causing repair costs to rise. At Restoration Complete, our teams are always on standby to respond to emergencies around the clock, ensuring that help is just a phone call away.
Water Damage and Health Concerns
Apart from the visible damage to property, basement flooding can also result in significant health hazards. Water damage can promote mold growth, leading to respiratory problems and other health concerns. The U.S. Centers for Disease Control and Prevention (CDC) states that exposure to damp and moldy environments may cause a variety of health effects, or none at all. For people sensitive to molds, they can experience nasal stuffiness, throat irritation, coughing or wheezing, eye irritation, or, in some cases, skin irritation.
As an IICRC certified and mold remediation and removal certified company, Restoration Complete understands the health risks associated with water damage.
Our comprehensive restoration process includes measures to identify, isolate, and treat mold-affected areas, ensuring your property is not just repaired, but also safe for its inhabitants.
Dealing with Insurance
Navigating insurance claims after a disaster can be a stressful and overwhelming process. At Restoration Complete, we strive to relieve some of this stress by working directly with your insurance company. We handle the paperwork and ensure all damage assessments and claims are accurately filed, allowing you to focus on what matters most – getting back to normal.
Restoring Your Peace of Mind
At the end of the day, our mission at Restoration Complete is to restore more than just your property. We understand that disasters like a basement flood can disrupt your life, causing significant stress and worry. Our goal is to restore your peace of mind by assuring you that your property is in expert hands.
From the moment you make that first call to the final stages of restoration, we're with you every step of the way. We're not just restoring your property; we're helping you rebuild your life.
Call us Today 833-831-2181
When a water pump floods your basement in Johns Creek, Milton, and surrounding cities, don't hesitate to reach out to Restoration Complete . With our expertise in water damage restoration, mold remediation, and our specialized pack out services, you can rest assured that your property and belongings are in safe, professional hands.
Remember, in the face of disaster, you're not alone – you have Restoration Complete on your side.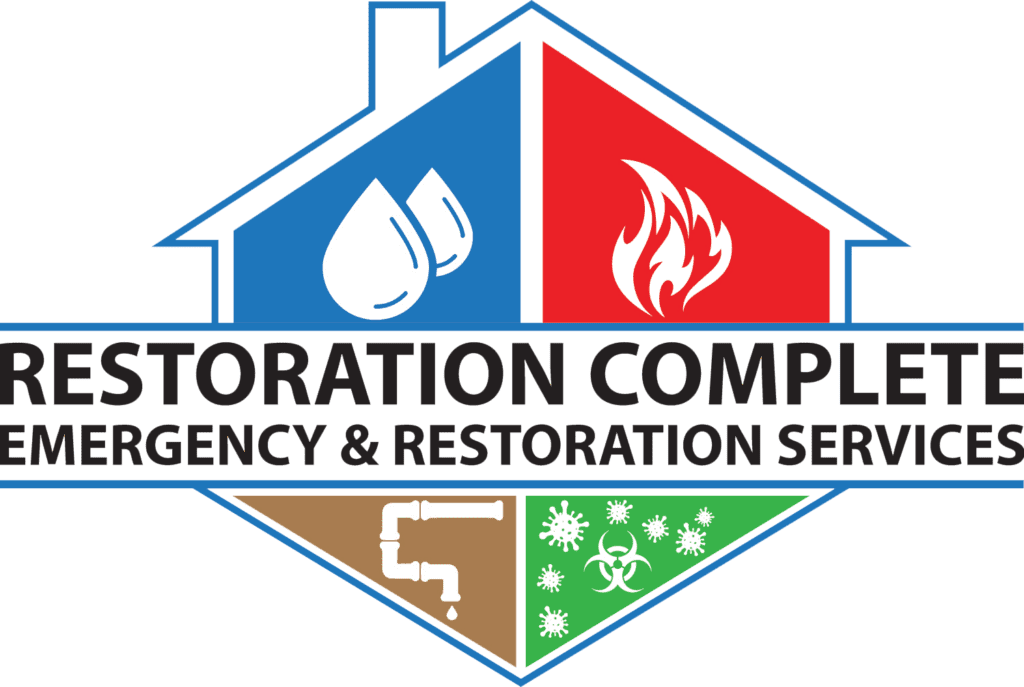 Restoring Residential and Commercial Losses of All Sizes
Copyright © 2023 Restoration Complete, LLC. All rights reserved.